Autumn in Northumberland: How to enjoy it right now
Published: Wednesday 23rd Sep 2020
Have you heard the phrase; 'Focus on what you can do instead of what you can't'? With that in mind, here's what you can definitely enjoy in Northumberland this autumn.
The beaches
The Beach Guide lists 31 beaches for Northumberland. That's more than one for every day of your holiday. For walks, watersports or huddling up and taking in the view, there's nothing better than a dose of vitamin sea. See our beach guide to choose which ones to visit.
The castles
Northumberland boasts more castle sites than any other county in England ranging from mighty forts that are still standing today to atmospheric ruins. The most popular castles are all currently open, except Lindisfarne Castle on Holy Island, with the following visiting requirements:
Bamburgh Castle: Open 10am-4pm. Face coverings required indoors and only accepting card payments.
Dunstanburgh Castle: Open 10am-5pm. Advance booking required and face coverings in indoor spaces. Views of the ruins of Dunstanburgh castle can also be enjoyed from the Craster coastline, Embleton Bay or Newton beach.
Alnwick Castle: Open 10am-5pm. Advance booking required and face coverings in indoor spaces.
Warkworth Castle: Open 10am-5pm. Advance booking required and face coverings in indoor spaces.
Chillingham Castle: Open noon-5pm until November 1. Face coverings to be worn in indoor spaces.
View over Amble marina to Warkworth Castle
The Gardens
Witness all the autumn colours unfold at Northumberland's two main garden attractions. Explore the woodland of Howick Hall Gardens and enjoy afternoon tea at the home of Earl Grey, who created the tea in his name. Howick is open from 10am-6pm until September 30 and then from 10.30am-5pm until November 1.
The Alnwick Garden with its cascading waterfall, bamboo maze, rose and poison garden, is welcoming visitors daily from 10am-4pm. Throughout the autumn, there's also the opportunity to see the entire garden sculpted out of Lego. Please note The Treehouse restaurant and rope bridges are currently closed to the public. Prebooking is essential.
The National Trust's Cragside in Rothbury and Gibside in County Durham are also open. Booking is required at both venues.
Boat trips and watersports
October is the best time to see the grey seals at The Farne Islands when more than a thousand seal pups are born. Boat trips operate from Seahouses harbour for a 90-minute cruise around the islands where you will get to see the large colony of seals, seabirds and Longstone Lighthouse where Victorian heroine Grace Darling, who with her father rescued survivors of the Forfarshire shipwreck, lived. Many of the boat companies also run sunset cruises and longer trips to Holy Island with time included to explore the island. Face coverings are required on the trips.
For those of you who are happy to don a wetsuit and brave the waters, we'd recommend Northside Surf and KA Kitesurfing. Coastal Retreats guests receive 10% off Northside's surfing and stand-up paddle boarding (SUP) lessons on beaches and rivers along the Northumberland coast. KA Kitesurfing is a kitesurfing specialist, as well as running SUP, surfing, coasteering and snorkelling sessions at Beadnell Bay, Bamburgh Beach and Budle Bay.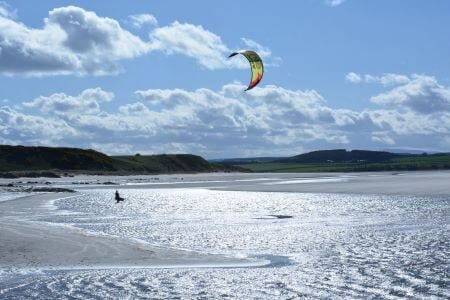 Eating out
Restaurants can currently open until 10pm in Northumberland so it is advisable to book a table beforehand. Most places are open but please check websites or social media pages for up to date opening times.
Our partner offer venues of The Jolly Fisherman in Craster, The Craster Arms and Salt Water Café in Beadnell, The Percy Arms in Chatton, The Northumberland Arms in Felton, The Pack Horse Inn in Ellingham and The Joiner's Arms in Newton are all open.
Box Pizza is currently on its summer break but will be back at The Old School Gallery in Alnmouth in October.
Destination shops
From coastal artwork at Mick Oxley's gallery in Craster to the world's largest second hand book store – Barter Books in Alnwick – discover Northumberland's artisan treasures as you explore its villages and towns. At The Old Dairy in Ford (open by appointment only) you'll find an Aladdin's Cave of antiques and vintage items and gifts to take home at Eleanor's Byre in Embleton or Carnaby's in Chathill.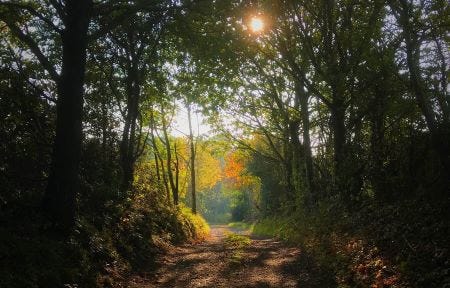 Walks
With the long-distance walking routes of St Oswald's Way and St Cuthbert's Way running through Northumberland and many more trails to enjoy in the National Park, there are plenty of opportunities to take in Northumberland's rugged, coastal and scenic landscape on foot. Hulne Park in Alnwick is also fantastic in autumn with its avenue of dawn redwoods and Capability Brown landscape.
Whether you are staying with us for a short break or longer, we hope you find some inspiration here for a relaxing break. For more suggestions of what to do, see our top 10 guide to Northumberland or our Northumberland A-Z.