Best Coastal Stays for Golfers
Published: Monday 1st Feb 2021
Be inspired by our round up of our Best Luxury Retreats near Golf Courses in what is one of the most popular regions for this sport.
These apartments and houses are all close to, and some within putting distance, of spectacular golf courses, as well as making great post play hangouts.
Golf writer Bernard Darwin said 'There is surely no lovelier view from any golf course' when writing about Bamburgh Castle Golf Course. Its' cliff top position and 360 degree views can command as much attention as the golf. Stay at Bamburgh Six to be close to the course, and Bamburgh village's restaurants and pubs.
Guests will love Bamburgh Six's outdoor space overlooking Bamburgh Castle and the open plan living/dining/kitchen area.
The Goswick Links Course in Berwick is just a short drive down the coast from Waterfront and has views out to sea of Holy Island to the south of Bamburgh Castle. Today's Golfer magazine dubbed this Open Qualifying Course a 'hidden gem', which is open 365 days a year.
Guests will love Waterfront for its second floor living area with floor to ceiling views of the sea.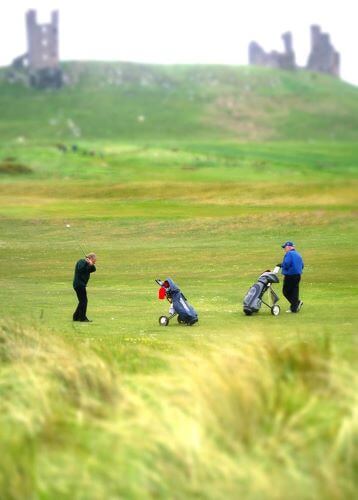 This rural idyll is within walking distance of Dunstanburgh Castle Golf Course and Embleton Bay. It has acres of land in which to relax in after play and is perfect for golfing couples.
Guests will love the storage space for golf clubs, the outdoor eating area and the free use of bikes.
Guests to Quayside or The Nelson can enjoy the benefits of two golf courses in nearby Alnmouth. The Alnmouth Village Golf Course overlooking the coast and one of the oldest nine hole links courses in England and its sister club, Alnmouth Golf Club, established in 1869 and one of Golf Monthly's 100 top hidden gems.
Guests will love the proximity to Amble's shops and restaurants and the apartments' marina and sea views.