Where to stay for an 'off grid' break this November
Published: Tuesday 12th Oct 2021
Since the unlocking of the country pre-summer, there has been much activity catching up with friends and family, more work as companies seek to catch up on lost time and a return to the packed social calendars of a pre-pandemic world. All this may have left you craving the simplicity of lockdown when exercise was easy to fit in your schedule, when there was time for reading or tackling those long put off projects and when we had headspace to realise and reprioritise what was important to us. These six Retreats offer you the opportunity to power off and escape the daily grind pre-Christmas. A chance to replenish those energy levels so you can enjoy all the trimmings of the festive season that last year we were forced to go without.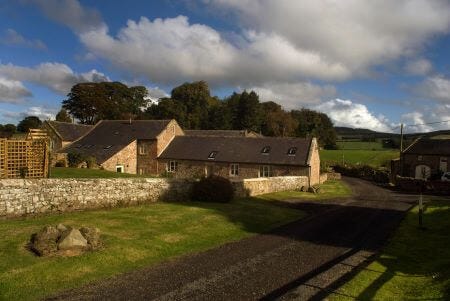 Rosebud close to the Northumberland National Park
Relax and Recharge at Rosebud
A previous guest once described Rosebud as 'a sanctuary' and 'the perfect place to reconnect with ourselves, each other, and the beautiful Northumberland countryside and beaches'. In a small hamlet of a handful of cottages close to the Northumberland National Park, Rosebud is a breath of fresh air. Leave your phones behind and explore the surrounding landscape; from Rosebud you can pick up the St Cuthbert's Way walking route that leads to the National Trust woods near to St Cuthbert's Cave or walk towards the village of Wooler for some wonderful views of the Cheviots. This luxury rural cottage has a feature log burner and a well-equipped kitchen for relaxing evenings in where you can also enjoy unobstructed views of starry skies from the comfort of its designer interior, or head outside with a flask of something warm to really appreciate the overhead drama.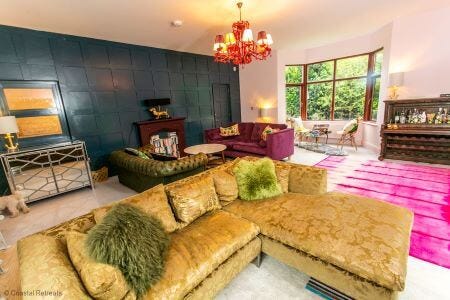 Reconnect with family and friends at Craster Colours
Check in to check out at Craster Colours
Craster Colours, located in the village of Dunstan, just outside of Craster, is an easy place to disconnect. This spacious detached house with its multiple socialising spaces encourages you and your family or friends to put down your devices and reconnect with one another, be that through conversation, playing one of the multiple board games on offer or enjoying some nourishing food cooked on the Aga. A 10-minute walk will also take you to Craster village where you can pick up the coastal walk to Dunstanburgh Castle. This magnificent vista and the sound of the waves on the rocks will certainly help you forget about the stresses and strains of everyday life.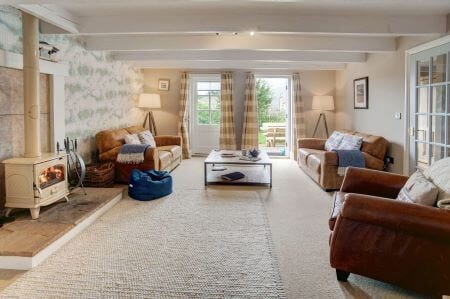 The calming coastal interior of Driftwood
Have a digital detox at Driftwood
Driftwood is ideally situated to visit all the attractions Northumberland has to offer, but it is equally the perfect base to indulge in a bit of self-care. Snuggled between two other cottages in the hamlet of Swinhoe, you can treat yourself to excellent food in nearby Beadnell, nights by the log burner, walks on the beach and a treatment or two at The Ocean Club spa – all within five minutes' drive of the cottage. Cream, linen and soft blue colours create a great calming effect throughout this coastal cottage, making time out here a real blessing.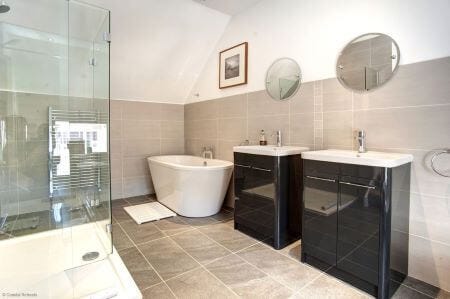 Leisurely soaks are a must at The Apple Store
Feed your soul at The Apple Store
The Apple Store is one of a cluster of cottages in the quiet coastal hamlet of Tughall Steads, between Newton and Beadnell. Its private garden overlooks miles of open countryside and in early autumn its fruit orchard is abundant with apples, pears and berries. Inside, the open plan living, and dining space means you can create some culinary delights in the kitchen and then enjoy them by the warmth of the wood burning store. Upstairs you'll find a large bathroom where long, leisurely soaks are a must. If relaxing means recreation to you, at nearby Beadnell Bay stand up paddle boarding kitesurfing and kayaking are all watersport options on this part of the coast.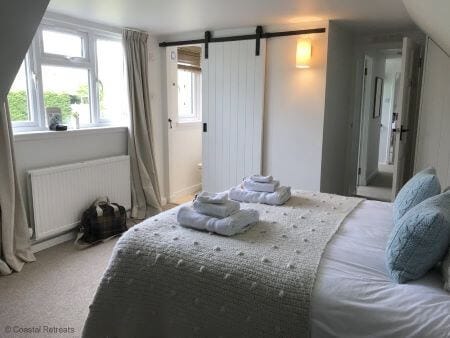 Catch up on some sleep underneath the White Company linens at Tweedswood
Treat yourself at Tweedswood
Switch off and immerse yourself in a slower pace of life at Tweedswood. Its interior is like a warm embrace from its squashy sofas to its rich coloured throws and log burner. Catch up on some sleep beneath the White Company bed linen or wile away the hours sipping coffee on the kitchen window seat. Set against the breathtaking backdrop of the rolling hills of the Scottish Borders, you can either opt for wild but exhilarating walks alongside the River Tweed or take a leisurely stroll around the chic Border town of Melrose. This is the kind of place where life's irritations melt away.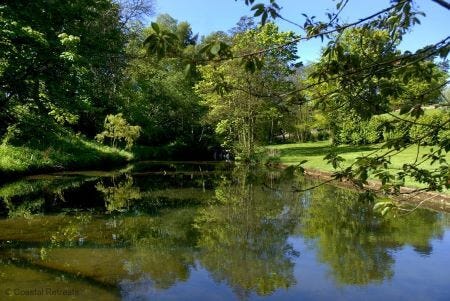 The Lodge @ Shirewater has five acres of woodland, river and orchard
On the outskirts of Embleton set in five acres of woodland, river and orchard, this early 20th Century wing of a country house is spacious and comfortable for couples and furnished in the art nouveau style of Charles Rennie Mackintosh. Its fuss-free appearance will give you the headspace you grave while its double-ended bath will lure you into unwinding from the moment your holiday starts. Swoon around the grounds like you have the extended leisure time of a Jane Austen character or stroll down to Embleton Bay where the mystical views of Dunstanburgh Castle will make you feel like you are someplace else.